The global Automotive Anode Material for Lithium Ion Battery Market Outlook and Opportunities report is a detailed study on different anode material types including synthetic graphite, natural graphite, silicon based materials and others. Further, wide applications of automotive anode materials for lithium ion batteries including BEVs, PHEVs, and others are forecast in the report. The report also provides potential drivers, challenges and key trends that will impact the automotive anode materials for lithium ion battery industry over the forecast period to 2030 are discussed.
Introduction to Automotive Anode Material for Lithium Ion Battery Markets, 2022
The robust market outlook for Lithium-ion batteries across automotive and non-automotive industries is encouraging companies to develop wide portfolio of anode materials for lithium-ion battery manufacturing. Different types of anode materials including natural graphite, synthetic graphite, powdered grapheme, activated carbon, carbon black, conductive additives, Lithium Titanate, and others are being developed by companies.
Key properties of anode materials in the Lithium Ion batteries including high porosity, high conductivity, light weight, durable, affordable prices, and voltage match with cathode support their widespread use in electric vehicles. An increasing number of collaborations between companies, universities, suppliers, and other organizations is observed to develop efficient anode materials.
The global Automotive Anode Material for Lithium Ion Battery Market Size stood at $1.3 billion in 2022 and is poised to register 14.25% growth over the forecast period from 2021 to 2028.
Automotive Anode Material for Lithium Ion Battery Market Highlights
The global market is categorized under different types including Synthetic Graphite, Silicon, Natural Graphite, Li-Compounds and Metals. Of these, the synthetic graphite is the largest type with the market holding an estimated 66.3% market share. Synthetic graphite is used as the leading anode material in commercial lithium-ion batteries. Coal based residue or aromatic petroleum is treated through various processes to form coke with a mostly amorphous carbon structure. It is further heated to over 2,800 °C for use in lithium-ion batteries. It is followed by Pulverisation (10-50 microns), and coating. Manufacturers market a wide range of customizable, high-quality products in different forms for lithium-ion batteries.
Among applications, BEV, PHEV, and Others are widely gaining market penetration, supporting the demand for lithium ion batteries.
Asia Pacific market is the largest market in the world, with a market share of 81.1%.
Leading companies continue to emphasize expanding their operations across the market to gain competitive edge.
The market is highly fragmented in nature, with intense competition among key players. Further, companies are forming partnerships for developing infrastructure and addressing industry challenges.
Key Automotive Anode Material for Lithium Ion Battery Market Drivers
R&D investments in development of advanced anode materials
Robust demand growth outlook for electric vehicles
Low discharge rates of Lithium Ion batteries
Automotive Lithium Ion batteries market growth presents strong potential for recycling companies
High initial costs of setting up manufacturing plants presents key challenges for growth
High Initial Costs of establishing plants
Competition from other battery types
The negative impact of COVID-19 on the industry
Anode Material for Lithium Ion Battery Market size by Region, 2021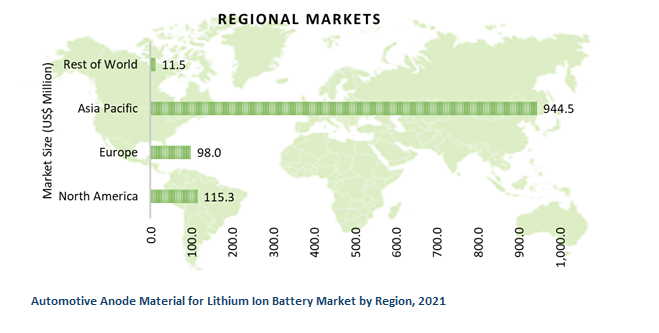 The global Anode Material for Lithium Ion Battery Market is dominated by Asia Pacific region, predominantly driven by developing countries. In addition to China, potential markets of India, South East Asia and other markets remain the main focus for leading manufacturers.
Anode Material for Lithium Ion Battery Market Drivers
R&D Investments in development of advanced anode materials to drive the market revenues for companies
The rapid growth in electric vehicle sales across the developing and developed countries is encouraging the demand for high-performance Lithium Ion batteries. The drive towards eco-friendly and reliable energy sources in the automobile industry is supporting the investments in research and innovation in lithium-ion battery technology.
Batteries with superior electrochemical performance with specific capacity, rate performance and cycle stability parameters are widely researched. In particular, the improvements in anode materials is focused by several companies to improve the overall battery performance. Anode materials are paired with cathode materials in the batteries and allow lithium-ion intercalation and deintercallation during the charge and discharge cycles.
To improve the operational parameters of Lithium Ion batteries such as energy density, lower costs, environmental performance enhancement and others, the anode material play a prominent role in determining the battery performance. Traditionally, graphite is widely used as the anode material due to low cost, absolute abundance, non-toxicity and structural stability, its performance in high-power applications presents scope for new materials.
Some of the materials assessed for anode in lithium ion batteries include-
Intercalation-type anode materials (Multichannel graphite, Expanded graphite, Graphite and AL2O3 reinforced composite, N,S-dual-doped multilayer graphene oxide (NSMGO), Phosphorus-doped ordered mesoporous carbons (POMCs), CeO2-coated Li5Cr7Ti6O25 materials, TNO/C composite), and others.
Conversion-type anode materials (NiO@C composite anode, Iron Oxide (fe3o4), CoP-NPPCS, porous manganese oxides embedded in reduced graphene oxide, and others.
Alloying-type anode materials (Ag Nanoparticles Anchored on Nanoporous Ge Skeleton, P/CNTs and P@PMCNFs/CNTs, bismuth composite, and others.
Scope of the Automotive Anode Material for Lithium Ion Battery market study
Types
Synthetic Graphite
Natural Graphite
Silicon
Others
Applications
Battery Electric Vehicles (BEV)
Plug-in Hybrid Electric Vehicles (PHEV)
Others
Companies
Kureha Corp
BASF SE
3M Co
Mitsubishi Chemical Holdings Corp
NEI Corp
Showa Denko Materials
SGL Corporation
Shanshan Technology
Posco Chemical
JFE Chemical Corp
Jiangxi Zichen Technology
Chapter 1- Executive Summary
The Total Market Size Is Valued At $1.17 Billion In 2021 And Is Poised To Grow At A CAGR Of 14.25% In 2021-2028 To Reach $3.87 Billion In 2030.
Key Areas That Will Drive the Future Growth of the Global Markets
Automotive Anode Material for Lithium Ion Battery Systems are evolving rapidly driven by the planned capacity additions across countries
GLOBAL AUTOMOTIVE ANODE MATERIAL FOR LITHIUM ION BATTERY MARKET BY REGION, 2021
REGIONAL MARKETS
ABBREVIATIONS
MARKET SEGMENTATION
Chapter 2- MACROECONOMIC & DEMOGRAPHIC ANALYSIS
GDP Outlook (Current Prices) in USD Billion
Population Forecasts across Countries, Million People
Chapter 3- Automotive Anode Material for Lithium Ion Battery Market Overview
AUTOMOTIVE ANODE MATERIAL FOR LITHIUM ION BATTERY INDUSTRY PANORAMA, 2021
COMPANIES PROFILED IN THE REPORT
Chapter 4- AUTOMOTIVE ANODE MATERIAL FOR LITHIUM ION BATTERY MARKET DYNAMICS
Potential Market Drivers
Market Restraints
Trends in Automotive Anode Material for Lithium Ion Battery Types
MARKET OUTLOOK BY MATERIAL - OVERVIEW
MARKET OUTLOOK BY TYPES- SYNTHETIC GRAPHITE
MARKET OUTLOOK BY TYPES- NATURAL GRAPHITE
MARKET OUTLOOK BY TYPES- SILICON
MARKET OUTLOOK BY TYPES- OTHER MATERIALS
Chapter 5- Trends in Automotive Anode Material for Lithium Ion Battery Applications
MARKET OUTLOOK BY MATERIAL - OVERVIEW
MARKET OUTLOOK BY APPLICATION- BEVs
MARKET OUTLOOK BY APPLICATION- PHEVs
MARKET OUTLOOK BY APPLICATION- Others
Chapter 6- Trends in Automotive Anode Material for Lithium Ion Battery by Region
MARKET OUTLOOK BY MARKETS
Global Outlook across Covid-19 Recovery Scenarios
Low Growth Scenario
Reference Case Scenario
High Growth Case Scenario
Chapter 7- North America Automotive Anode Material for Lithium Ion Battery
NORTH AMERICA MARKET OUTLOOK- SNAPSHOT
NORTH AMERICA MARKET OUTLOOK BY COUNTRIES
United States Market Outlook
Rest of North America Market Outlook
Chapter 8- Europe Automotive Anode Material for Lithium Ion Battery Market Outlook
EUROPE MARKET OUTLOOK- SNAPSHOT
EUROPE MARKET OUTLOOK BY TYPES
EUROPE MARKET OUTLOOK BY COUNTRIES
Germany Market Outlook
France Market Outlook
United Kingdom Market Outlook
Rest of Europe Market Outlook
Chapter 9- Asia Pacific Automotive Anode Material for Lithium Ion Battery Market Outlook
ASIA PACIFIC MARKET OUTLOOK- SNAPSHOT
ASIA PACIFIC MARKET OUTLOOK BY TYPES
ASIA PACIFIC MARKET OUTLOOK BY COUNTRIES
China Market Outlook
South Korea Market Outlook
Japan Market Outlook
Rest of Asia Pacific Market Outlook
Chapter 10- Rest of World Automotive Anode Material for Lithium Ion Battery Market Outlook
REST OF WORLD MARKET OUTLOOK- SNAPSHOT
REST OF WORLD MARKET OUTLOOK BY TYPES
REST OF WORLD MARKET OUTLOOK BY SUB-REGION
Latin America Market Outlook
Middle East Market Outlook
Africa Market Outlook
Chapter 11- Company Profiles
Kureha Corp
BASF SE
3M Co
Mitsubishi Chemical Holdings Corp
NEI Corp
Showa Denko Materials
SGL Corporation
Shanshan Technology
Posco Chemical
JFE Chemical Corp
Jiangxi Zichen Technology
Chapter 12- Appendix