The global $20.4 billion Faucet market is growing rapidly driven by widespread adoption across residential users, in bathrooms and kitchens. The report presents the global faucet market size outlook through 2030 across types including bathrooms, kitchens, and others. Further, Faucet sales across residential and commercial sectors from offline and online distribution channels are forecast. In addition, key market dynamics, companies and forecast for 15 countries and 6 regions are included in the global faucet market report.
Faucet Market Report Highlights, 2021
The global Faucets Market Size stood at $20.4 Billion in 2020
The COVID-19 resulted in year-on-year fluctuation of 4.3% in market value
Bathroom Faucet is the most used type with 46.4% market share
Residential sector continues to be the largest user of faucets, with 55.6% share
Driven by China, Asia Pacific dominates the global faucets market with 39.6% market share
Market is largely fragmented in nature and is characterized by domination of both domestic and multi-national companies
Leading Companies include- Grohe, Kohler, Masco, Toto and others
Global Faucets Market Size Outlook to 2030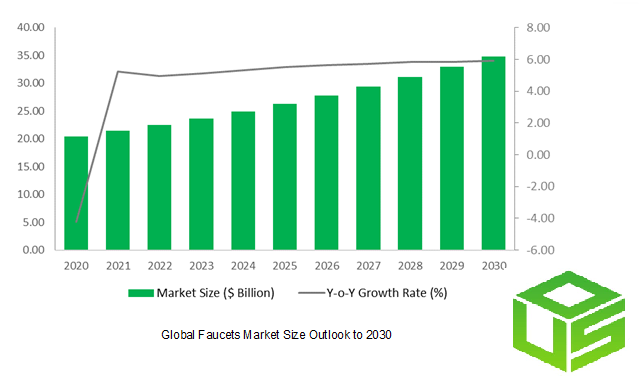 Faucets Market Analysis, 2021
The global faucet market size stood at $20.4 Billion during 2020. The COVID-19 pandemic led to cancellation of trade shows and other marketing opportunities, which plays an important role in marketing of new products. Raw material supply disruptions, decline in construction activities, global trade decline and slow recovery in industries and economies resulted in demand decline during 2020. An estimated 4.2% demand decline in value terms is observed during the year.
However, with vaccination availability anticipated from December 2020 in developed countries, the industry is likely to recover growth from 2021. Sharp focus on capital employed, high product quality and innovation are some of the critical success factors for faucet manufacturing companies to stay ahead of competition during the recovery phase.
Overall market demand is driven by growth in Asia Pacific market demand. Rapid urbanization, increasing disposable incomes of individuals and drive for luxury and lush bathroom experiences are key market drivers in developing countries. Demand for advanced and smart faucets is being observed in China, India, South East Asia and other countries, which is encouraging the market growth.
Amidst intense competitive conditions in the market, companies are launching new products to escalate day-to-day experience of water-use of residential and commercial customers. Companies are focusing on manufacturing faucets to cater location-specific aesthetic needs to attract customers across markets. Further, faucets with multi-turn operation modes to suit individual utility needs are also being marketed widely.
Wide range of chrome and matte finish faucet mixers with varying thickness levels to withstand all ambient conditions are being introduced by companies. Varied finishes including Chrome, Black, Chrome and Oil Rubbed Bronze are witnessing demand growth. Faucets that assist in minimal consumption of water are being preferred. Accordingly, companies like Delta and Kohler are focusing on smart faucets.
The research report categorizes the Faucets into bathrooms, kitchen and other purposes. Of these, bathroom purpose faucets segment continues to dominate the global market during the forecast period due to the wide usage of products, emerging lifestyles and increasing middle class incomes.
In terms of end users, residential users dominate the market during 2020 with 55.6% market share. However, commercial sector will be the fastest growing market segment, poised to register 6.67% CAGR over the forecast period.
The market is characterized by presence of a large number of regional companies. Further, global majors are rapidly expanding into Asian markets driven by huge demand potential.
Faucets Market Companies Profiled in the Report
The global Faucets market is a highly competitive industry, with companies competing with each other to gain a greater market share.
Grohe, Kohler, Masco, Toto and others are among the main players in the industry.
Majority of the players are opting for business expansion in Asia Pacific through product launches, and mergers & acquisitions with domestic distribution networks.
Companies in this market have ramped up their product launch activities over the recent years to cater domestic industrial requirements, and are observed to increase their R&D activities. However, limited opportunities to showcase new products in 2020 coupled with low demand conditions posed challenges to the industry.
Faucets Market Trends- New product launches shape the future of markets
Constant innovation and novel offerings across price and design ranges remain the key market trend worldwide. Innovative crafted fixtures and faucets to cater emerging lifestyles of individuals, budgets, and water conditions/climate conditions are being launched worldwide. For instance, Delta launched kitchen collection inspired by French dance forms (Coranto), Emmeline (diamond and circular shapes), Kayra bath collection (additional functional features such as pull down spray wand), Trillian bathroom collection (inspired by prismatic architecture). Kohler launched products to cater styles and tastes of customers in individual countries such as Toobi, Stance collections, Couture, Konnect while jaguar is focusing on Queens models (with Victorian body), Tiarra faucets under Artize luxury brand, wide range of digital faucets by Hindware and others.
Faucets Market Drivers- Growth in commercial construction Sector
A growing client base of large investors in construction and infrastructure projects worldwide. The global construction industry is forecast to increase from $4.6 trillion in 2020 to $6.6 trillion in 2026, driven by significant market investments. Developers are focusing on commercial client-driven products in the hotels, restaurants and office projects. Developing countries such as Nigeria, South Africa, Bangladesh, Indonesia, India, and China are making robust efforts to improve lifestyles and deploying smart and attractive faucets and bathroom fittings. Further, professional marketing of faucets through organized and online retail channels, and initiative of the private sectors for developing attractive interiors are market drivers. Tourism growth is also one of the major drivers of commercial construction industry, which is driving demand for faucets worldwide. During 2019, Travel & Tourism's direct, indirect and induced impact accounted for: US$8.9 trillion contribution to the world's GDP and is increasing at 3.6% growth over the forecast period.
Faucets Market Challenges- High initial investment pose challenges for new entrants
Faucet manufacturing is a capital-intensive industry and amidst intense competition, product with superior finish and advanced features need to be manufactured. Involvement of high initial investment poses challenges for new entrants. Further, huge dealer margins, brand promotion investments and price competition with peer products discourage small and medium scale players.
Further, as corrosion remains one of the main challenges of faucets, companies must invest significant investments in corrosion resistant zinc and brass material based raw materials. Growth of demand for smart faucets requires further investments. However, domestic small and medium players are targeting local markets with low priced goods in large quantities with high dealer margins as the main marketing strategy in the private label competitive faucet industry. This poses challenges for aggressive business expansion plans of global players such as Kohler and Delta.
Faucets Market Report Segmentation
Types
Applications
Distribution Channel
Regions
North America
Europe
Asia Pacific
Middle East Africa
Latin America
1. TABLE OF CONTENTS 2
1.1 List of Tables 7
1.2 List of Figures 9
2. EXECUTIVE SUMMARY 12
2.1 Summary 12
2.2 The global chemicals and materials industry in 2020 13
2.3 Faucets Industry Outlook, 2020 – 2030 14
2.4 Abbreviations 15
3. INTRODUCTION TO FAUCETS MARKET 16
3.1 Market Segments - Types, Applications, and Countries 16
3.2 Report Guide 17
3.3 Research Methodology 18
4. MACRO FACTORS SHAPING THE FAUCET MARKET OUTLOOK 19
4.1 Economic Factors 19
4.2 Demographic Factors 20
5. OVERVIEW OF FAUCET MARKET 21
5.1 Industry Panorama, 2022 21
5.2 Major Faucet Companies 22
5.3 Faucet Market Trends 23
5.4 Largest End-User Applications 26
5.5 Dominant Faucet Types 27
5.5.1 Bathroom Faucets Market 28
5.5.2 Kitchen Faucets Market 29
5.5.3 Other Faucets Market 30
5.6 Leading Faucet Distribution Channels 31
5.6.1 Offline 32
5.6.2 Online 33
5.7 Regional Outlook 34
6. GLOBAL OUTLOOK ACROSS COVID-19 SCENARIOS 35
6.1 Low Growth Scenario 35
6.2 Reference Case Scenario 36
6.3 High Growth Scenario 36
7. TRENDS IN END USER MARKETS 37
7.1 Residential Faucets Market 38
7.2 Commercial Faucets Market 38
8. NORTH AMERICA FAUCETS MARKET ANALYSIS 40
8.1 Outlook 40
8.2 Trends and Opportunities 41
8.2.1 Bathroom type dominates the North American Faucets Market 41
8.2.2 Residential Users dominates the North American Faucets Market 42
8.2.3 Offline Distribution Channel dominates the North American Faucets Market 43
8.2.4 The US dominates the North American Faucets Market 44
8.3 Market Outlook by Country 45
8.3.1 United States Faucet Market Outlook to 2030 45
8.3.2 Canada Faucet Market Outlook to 2030 46
8.3.3 Mexico Faucet Market Outlook to 2030 47
9. EUROPE FAUCETS MARKET ANALYSIS 48
9.1 Outlook 48
9.2 Trends and Opportunities 49
9.2.1 Bathroom Faucets dominates the European Faucets Market 49
9.2.2 Residential Users dominates the European Faucets Market 50
9.2.3 Offline Distribution Channel dominates the European Faucets Market 51
9.2.4 Germany dominates the European Faucets Market 52
9.3 Market Outlook by Country 53
9.3.1 Germany Faucet Market Outlook to 2030 53
9.3.2 United Kingdom Faucet Market Outlook to 2030 54
9.3.3 France Faucet Market Outlook to 2030 55
9.3.4 Spain Faucet Market Outlook to 2030 56
9.3.5 Italy Faucet Market Outlook to 2030 57
10. ASIA PACIFIC FAUCETS MARKET ANALYSIS 58
10.1 Outlook 58
10.2 Trends and Opportunities 59
10.2.1 Bathroom Faucets dominate the Asia Pacific Faucets Market 59
10.2.2 Residential Users dominates the Asia Pacific Faucets Market 60
10.2.3 Offline Distribution Channel dominates the Asia Pacific Faucets Market 61
10.2.4 China dominates the Asia Pacific Faucets Market 62
10.3 Market Outlook by Country 63
10.3.1 China Faucet Market Outlook to 2030 63
10.3.2 India Faucet Market Outlook to 2030 64
10.3.3 Japan Faucet Market Outlook to 2030 65
10.3.4 Other Asia Pacific Faucet Market Outlook to 2030 66
 
11. LATIN AMERICA FAUCETS MARKET ANALYSIS 67
11.1 Outlook 67
11.2 Trends and Opportunities 68
11.2.1 Bathroom Faucets dominates the Latin American Pacific Faucets Market 68
11.2.2 Residential Users dominate the Latin American Faucets Market 69
11.2.3 Offline Distribution Channel dominates the Latin American Faucets Market 70
11.2.4 Brazil dominates the Latin America Faucets Market 71
11.3 Market Outlook by Country 72
11.3.1 Brazil Faucet Market Outlook to 2030 72
11.3.2 Argentina Faucet Market Outlook to 2030 73
11.3.3 Other Latin America Faucet Market Outlook to 2030 74
12. MIDDLE EAST AND AFRICA FAUCETS MARKET ANALYSIS 75
12.1 Outlook 75
12.2 Trends and Opportunities 76
12.2.1 Bathroom Faucets dominates the Middle East and Africa Pacific Faucets Market 76
12.2.2 Residential Users dominates the Middle East and Africa Faucets Market 77
12.2.3 Offline Distribution Channel dominates the Middle East and African Faucets Market 78
12.2.4 Middle East dominates the MEA Faucets Market 79
12.3 Market Outlook by Country 80
12.3.1 Middle East Faucet Market Outlook to 2030 80
12.3.2 Africa Faucet Market Outlook to 2030 81
13. COMPETITIVE LANDSCAPE 82
13.1 Masco Corporation
13.1.1 Overview
13.1.2 SWOT Analysis
13.1.3 Strategies
13.1.4 Key Financials
13.2 Vileroy and Boch AG
13.2.1 Overview
13.2.2 SWOT Analysis
13.2.3 Strategies
13.2.4 Key Financials
13.3 Toto Ltd
13.3.1 Overview
13.3.2 SWOT Analysis
13.3.3 Key Financials
13.4 Lixil Group
13.4.1 Overview
13.4.2 SWOT Analysis
13.4.3 Key Financials
14. APPENDIX 145
14.1 About USD Analytics 145
14.2 Sources and Research Methodology 147
14.3 Copyright 149